B2B e-commerce with Magento
We design and implement your e-commerce solution. Not just any e-commerce solution.
Why Adobe Commerce, formerly Magento?
The e-commerce platform for an optimal customer experience
Magento, more recently also known as Adobe Commerce, is the world's leading e-commerce store software with integrated solutions for analytics, advertising, content creation and commerce. The customizing possibilities of the software are almost unlimited, so that every specific requirement is covered. In addition, Magento offers the ideal basis for expanding your store to mobile commerce. This creates cross-channel shopping and experience worlds that will impress your customers.
References
A selection of our best online stores
For more than 20 years, we have been supporting ambitious medium-sized companies, national and international corporations and brands in digitizing their sales: complex product variant models, cost center management, CPQ processes and the integration of dealer networks and sales representatives - we know what B2B companies are concerned about when it comes to e-commerce.
Berner: Conceptual design of a business portal with UX focus
Our mission:
Berner is one of Europe's leading distributors in the construction, automotive and industrial sectors. The product portfolio comprises more than 75,000 articles. We design an e-commerce portal that offers users an optimal overview and digitally maps the previous analog business processes.
Our solution:
Sophisticated UX / UI design for a particularly convenient digital customer experience
Clear information architecture and individual presentation for approx. 75,000 products
Transfer of analog B2B business and service channels to the online store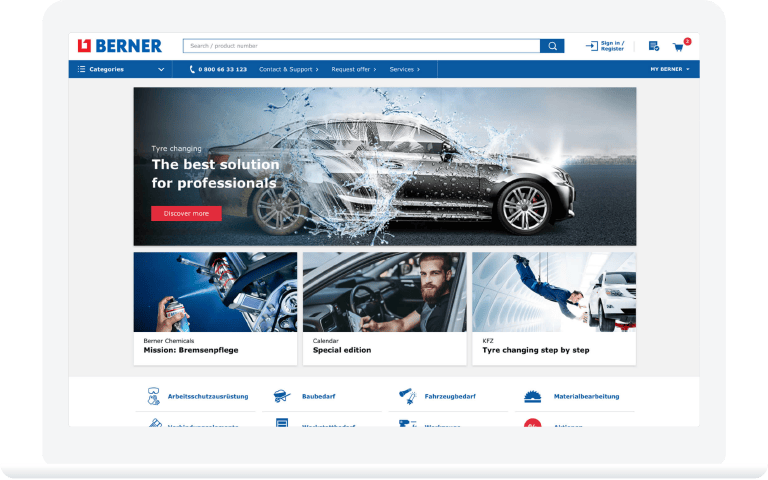 bachmaier HEAROS: Customized e-commerce solution
Our mission:
An online store that is precisely tailored to the needs of a young target group (professional and amateur musicians). The most important feature: A product configurator with which customers can individually design their personal HEAROS.
Our solution:
a customer-centric e-commerce solution with high experience value
modern look & feel
extremely high individualization and interaction possibilities
strong identification with the brand and a sustainable positive customer experience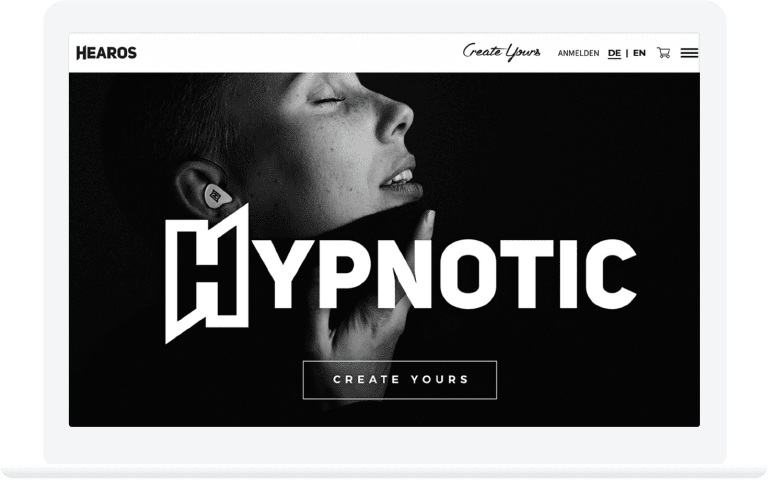 Develey: 12 domains, one platform
The challenge:
Building an international web platform including website and commerce solution that can easily host 12 brands.
The result:
Multi-domain support with…… cross-brand data objects (products, recipes, magazines)… cross-platform content modules… sophisticated user administration with granular rights management… extensive asset management
easy and intuitive content maintenance for all domains
various interfaces to keep data such as inventory up to date
APIs for payment options, maps and social media platforms
integration of enhanced e-commerce tracking
newsletter & sweepstakes integrations
automatic generation of reports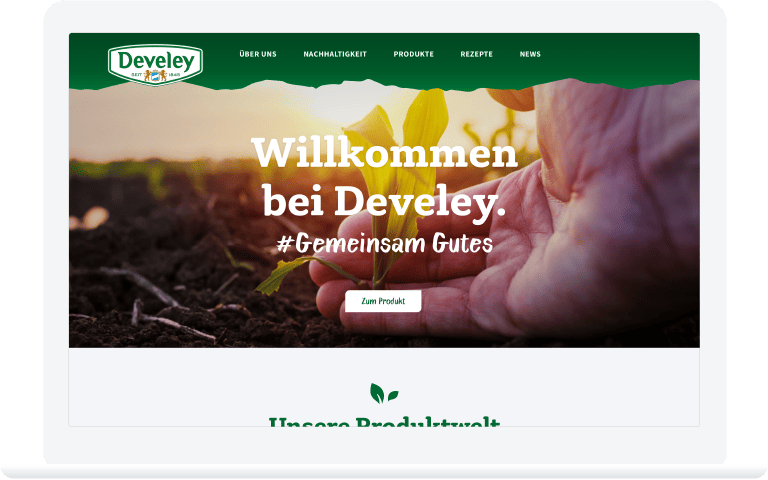 B2B online store that maps complex processes
Our mission:
For a client from the automotive sector, we are creating a B2B webshop that maps complex processes in the linking of online sales and offline services - and at the same time creates maximum transparency for the user.
Our solution:
Mapping of individual fulfillment processes in the Magento backend
Integration of on-site services in the purchase process
Extended user profile as a portal for all offered services
Order management: processing of individual offers directly in the user's profile
Complete overview of the status of used services in the profile
Mapping of approval processes and purchase processing of complex products and services
Why SNK?
As a digital agency with a passion for Digital Customer Experience, we accompany our clients with a holistic approach of strategy, design, technology and marketing.
All these disciplines are deeply anchored in our DNA and each is the responsibility of a managing director with proven experience and expertise. This sets us apart from many other service providers.
The goal of our work is always the optimal customer experience. That's why the following three aspects are crucial to all our strategies and concepts:
Customer Centricity: we plan the concept from the perspective of your users.
Usability: For us, user-friendliness is the be-all and end-all for a positive shopping experience.
Business Requirements: Your business goals are the decisive guideline for the strategy.
From here, we start the classic implementation in sprints - but without losing sight of the essentials: a positive customer journey.
01
SPOC
We define clear communication structures thanks to the "single point of contact" principle. Expert communication takes place at any time as needed.
02
Multidisciplinary and modular project teams
Our teams are put together individually for your project: We supplement the project team flexibly with the appropriate experts from the required disciplines.
03
Transparent communication
In addition to constantly viewing progress in our project management platform, we keep you up to date with regular reporting.
04
Classic kick-off
In a kick-off meeting, we work with you to develop an overarching project vision and lay the foundation for successful collaboration. For us, our customers are an indispensable part of a strong project team.
05
Structure of a product backlog
We support the creation of the product backlog or provide the product owner if required. In doing so, we contribute our experience and e-commerce best practices.
06
Sprint plan
As a flexible guideline, we create a roadmap for the planned sprints, with which we do not lose sight of our vision: Its integral part is the developed UX concept, which forms the guideline for each of our sprints.